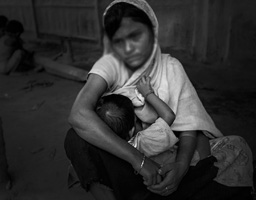 India is ranked 4th in the Thomson Reuters list of world's most unsafe countries for women. India is a country where access to basic human rights is a privilege, especially for women. India, the country where women are worshiped as goddess- Durga, Saraswati, Laxmi…. where every Navaratra small girls are worshiped as the goddess themselves.  This country, India is also the country where girls are killed (Maa … I want to be born too) both literally and figuratively, where girls are considered to be burden and married of at the earliest opportunity.
Child marriage in India statistics are scary and depressing. 700 million of the women alive worldwide were married before their 18th birthday, one-third of them had entered into the union before they turned 15. India, the superpower of tomorrow has one in every third of these 700 million women. The evil of child marriage in modern India still prevails.
We are partially blind people, we see only what we want to see and to the rest we just close our eyes. The government has legalised the age of marriage of girls at 18 years, while as per UNICEF the median age at first marriage is 19.7 years for women in the richest quintile and 15.4 years for the poorest women (aged currently in 26-50 years).
Even though illegal, child marriage persists in rural India freely. As per last Census in 2011, nearly one percent of girls in rural areas aged less than 15 years are already married (unofficial figures are way higher). While more than 20% of girls in the age group of 15-19 are married.  The problem is more chronic in the rural areas of Rajasthan and West Bengal where the figure is 30%+.
Child marriage in India reasons are numerous and vague- In the name of customs, dowry burden, gender biasness, poverty and security small girls are married of before the legal age. The problem is not only that child marriage doesn't let women have a choice about when and whom to marry, but it's quite deeper. Child marriage means that a child is never given the opportunity to become a girl.
Child marriage means that the girl is not given an opportunity to get proper education, become an independent women, no job, and no money leading to a poor quality of life. Child marriage means tons of household work. Moreover it's been seen that domestic violence and abuse is more common in case of child marriage.
Another problem related to child marriage is early motherhood. Most adolescent pregnancies, nearly 25% of married girls under the age of 15 have at least one kid, while 18% of them have given birth to two children. Nearly 4% of the married teenage girl have already have given birth to four children. A child herself, she is forced to take care of her own kid/s. More often than not due to improper medical care both mother and child have to face health issues. Complications like premature stillbirths and infant deaths are more likely among kids born to mothers than to mothers aged 20+. Further infants who survive are more likely to have a low birth weight and be premature than those born to women in their 20s.
It's the time to run after butterflies
It's the time to've the first crush
It's time to win awards and races
It's the time to enjoy life to fullest
Oh but it's so not
For the girl out there
It's the time to do be bride
It's the time to do household work
It's the time for domestic violence
It's the time to be a mother.
Oh but the girl out there
She is a kid herself
How will she take care of another?
The evil of child marriage is like the vicious circle of poverty it can only be ended with women empowerment in terms of education and independence to work.