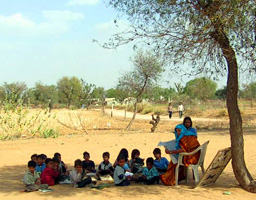 I so hated getting up at 6 o'clock to be on time
I so hated standing in the queue for the prayers
I so hated listening to what was being taught
I so hated giving those tests and waiting for the results
I so never realised that I was so very privileged…!!!
We are a country that is busy celebrating a "moment of pride about Mr. Sundar Pichai being selected as the next CEO of Google". A country known for producing the best engineers worldwide. A country which arguably had the first University of the world. We are also a country with the second largest population of the world, a country with the highest illiterate population of the world (287 million or 37% of world's illiterate population).
At Independence, we had a literate population of only 18%. As per the last Census in 2011 the figure had risen more than 4 times to 74%, while adult literacy rate was at 69%.  Despite spending 4% of our GDP to promote education, it is still not enough as we are way below the global average of 89% for youths and 84% for adults.
This situation is alarming for Rural India. With over 85% of the schools in the country the statistics on education are embarrassing. Rural India has an overall literacy rate of 67.8% only and adult literacy of 62.6%. Only 5%  are graduates and 3.45% post graduates as various problems plagues the area – quality of schools, lack of qualified teachers, access to and reach of schools being a few of them.
We envisage large and lush playgrounds, beautifully structured building, well illuminated and decorated classrooms when we imagine our schools. The children in Rural India in all probability have never heard these, 2% of schools in Rural India don't have any building at all. The students still study in Gurukul style in open fields.
While we think about the stature of the school, its history and owners; children in Rural areas are happy to have a school. 82% of the schools are run and maintained by the government as compared to 44% of urban schools.
While we have used excuses like non-existent fever and stomach aches to bunk school, the children in Rural India look for ways to somehow reach school. While we have taken a rain check just for the sake of it, children in Rural India don't have that luxury as 12% of the schools can't be approached if there is bad weather.
Children like to crib about the teacher, her style or that she is strict or worse never absent. Children in Rural India don't have this luxury. 9% of the schools have only one teacher teaching all classes and all subjects, for them having a teacher to teach is a reason enough to love her. While we have been scared to hell, because the head master was about to reprimand us for something, students in Rural India don't have this luxury too as 57% of schools don't have a regular head master or teacher.
As students we have hopped from one classroom to another during recess, picking our own favourite classroom – maybe because of its view or because no one could see us sleeping at the back bench in the particular classroom and so on. Students in Rural India don't have such choices. They have 4 classrooms on average and for 5% of the schools, there is no option at all as all student study in one classroom only. For the rest of them its about making choices like picking a classroom where thr roof is not leaking or one that does not have big holes or simply because one particular classroom happens to have benches and a blackboard. More than one-fifth of the classrooms in rural India are in need of repair works.
At Quantta, we work with our customers to highlight the disparity between urban and rural education and hopefully sharpen the focus on bridging the divide.