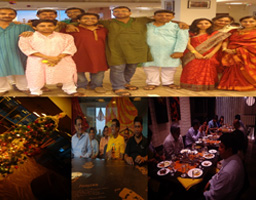 Working in a start-up is an exhilarating event in itself. Clearly it is not for the faint hearted as it is much like being on a roller coaster ride. You will be scared at the beginning, but the experience is worth the nervousness at the start.
Here you have no fixed job description, there is just one bottom line that the company needs to be at the top. To take it from 0 to 1,as Peter Theil so succinctly put it. There is only one foolproof way to do this put the CLIENT FIRST, be it a weekend or holiday. A start up is a trade off between a 9-7 fixed and easy job and an opportunity to learn new things, explore one's capabilities, find and prove oneself. People normally get an opportunity to be the master at one particular thing, we get to work in every department from HR, admin, finance, management, designing, web development, GIS, testing, analysis, data…. When I had joined Quantta I was a Financial Analyst, my knowledge was limited to – finance and equity. Today I know a lot more about IT, web development, blogging, SEO optimisation, management, recruitment and so on … I have a cloud of opportunities.
Quantta gives you enough food for thought that even when you are at home, more often than not you end up thinking about it.  What next, what new can one do, what will attract a new client, which new clients should one target, how to convince the client… are some of the questions which we are  always seen brainstorming about. One gets to feel a lot of things – the sense of anticipation and nervousness before every call with a prospective client; the sense of excitement, accomplishment, achievement at every project completion; the sense of being a part of something.
In an MNC with 1000 plus employee seniors are Sir/Mam, colleagues are Mr/Mrs/Miss, competitors and the rest are unknown and known Faces. We are a class apart, we are a small group of 30 people. Here we are on first name basis with everyone, beginning with the Founder of the company. For colleagues we mostly know what's happening at each other's home. While one is normally seen looking for acquaintances at work, we look for long lasting best friends. In an MNC one gets a mail for B'day, post which people come and wish. Here irrespective of the mail we ask for a party before wishing the B'day. And yes we always want the parties to be big and happening… but we don't really care if it is actually a vada-pav party.
We celebrate each and every occasion twice, once at home and once at our home away from home. The anticipation for every festival starting from Durga Puja, Deepawali, Xmas, or just the World Cup starts building a long before the actual event. At Quantta the preparation are as much fun as the event itself. And it is not only the fun that we share, one is rest assured one would have atleast 10 pseudo family members in times of need standing beside us. We believe in helping each other rather than pulling legs, in bollywood terms 'the family that works together grows together'.
At Quantta one has to be ready to discuss the meaning of true happiness with the Chairman; sit and pour your heart out with the Founder; and do the ramp walk- bhanghara style with the CEO of the company. After all "All work no play make's Jack a dull boy".
What others may see as a start-up, we see as the next Apple, Google …they all started somewhere and so are we…. To the best company around… Cheers!!!