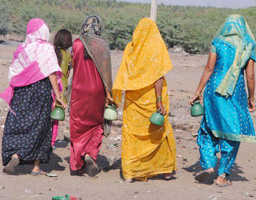 In India everything is a taboo, even discussion on basic life requirement like hygiene and sanitation are more often than not shooed off.  The rich and educated urban population is just not interested in talking about uhhh… such dirty and filthy topics. While the poor urban is still struggling to match the rich urban lifestyle and doesn't have time to talk. Oh and the poor rural people or at least the majority of them are even unaware of such terms like toilets, loo, flush, defecation, faeces and so on.
So even though we might not like to talk about such topics, the facts would not change (at least in a positive manner till we start talking and educating people about it). Worldwide 1 billion people still defecate in the open, and as usual 'Mera Bharat Mahan'- of the 1 billion, 597 million (nearly 60%) are from India. This is highest number of people defecating in the open anywhere in the world (we have to be at the top of something after all). 65% of the rural people use the open air for their daily bowel needs as compared to 12% in Urban India. On an average, 48% (nearly one in two) of the Indian population still go out every morning and evening in the fields, behind the bushes, or other open spaces to release themselves; rather than using toilets. What is funny is that India is credited as being the inventor of flush toilets. Indian's during the Indus Valley Civilization, around 6000 years back not only had flush toilets in most of the homes, these toilets were connected to a sophisticated sewage mechanism. But then that's history. The current situation is painful to say the least.
Open defecation and inappropriate sanitation is not the cause of a single problem, it is associated with many social, cultural, safety and health issues. Even just borns are not excluded from it. For kids too young to go out of the house the problem of poor sanitation is prevalent in form of inappropriate disposal of faeces. A mere 11% households in Rural India Indian dispose child faeces safely. 80% of the time a child's faeces is either left in the open or thrown into the garbage by the care giver. With nearly 44% of mothers disposing of their children's faeces in the open, the risk of microbial contamination (bacteria, viruses and amoeba) of water is very high. This leads to another chronic issue of diarrhoea in children.
So it's not surprising that India has the highest number of diarrhoeal deaths among children under-five in the world. Each year the disease kills 188000 children (diarrhoea is the cause death in 25% of under five deaths). Further, children already weakened by frequent and/or chronic diarrhoea are more susceptible to stunting and infection such as pneumonia.  To add to the woes open defection also cause worm infection. These all leads to malnutrition, as per UNICEF 43% of children in our country suffer from some degree of malnutrition; hampering their growing and learning ability. Another disease associated with open defecation is polio transmission (faecal-oral route increases the polio risk for the community as a whole).
Both men and women suffer from the malpractice of open defecation. As poor sanitation facilities increase health risk and invariably cripples growth at individual and national level both.
The problem is more often show caused in terms of women, as women have always been treated as the vulnerable half.  Women going out in the broad day light to relieve themselves face the risk of being peeked at. Going out early morning or late night put their safety at risk from human and animals both. Open defecation puts the dignity of the women's in India at risk, a senior police official in Bihar said some 400 women would have "escaped" rape last year if they had toilets in their homes. This is the reason why most awareness activities are women centric.
Thankfully there is a ray of hope, the GoI is looking into the matter seriously. Swatchh Bharat Mission (SBM), the face of the undertaking to end open defecation aims to create awareness to bring along behavioural changes.  The Prime Minister, has pledged to build 111 million toilets in order to end open defecation by 2019.