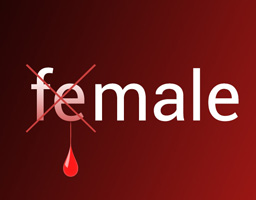 I will do all the work
I will clean the dishes
I will help you cook
I will get the water
I will be an additional hand
Maa let me live …
I won't ask for sweets
I won't ask for new clothes
I won't ask to go to school
I won't ask for anything …
Except your love
Maa let me live …
Why, Maa why …
Why do you hate me
Why kill me
Or is it Maa you love me
Love me so much
That you don't want me
to live the life you have lived.
The cries of the little daughters of India born or unborn more often than not, go unheard. Seven decades ago, our freedom fighters fought for independence with a dream in their eyes and hope in their hearts. Who would have dreamt of a country where a girl child wouldn't even have the freedom to be born, let alone live. We reap what we sow; and the time for harvest is near. For decades we have been killing the daughter, the would-be wife, the womb of the future.
Even though India's gender ratio was not always skewed, we started killing quite early. In 1901 the ratio was at an acceptable level of 972:1000. At the time of first post-independence Census India's gender ratio had started falling and was at 946:1000, the situation became alarming in 1991 when it reached at an all-time low of 926:1000. The alarm bells set a flurry of action in motion with the government bringing in new laws, NGOs working on the issue at hand and citizens being educated about the importance of girl child.  The hard work was reflected in the last census of 2011 when the ratio saw a jump to 943. However, this trend may not be sustainable, as the CSR or the Child Sex Ratio in 2011 was at 918 which is lower than 945 in 1991 and 927 in 2001. The situation is the worst in Northern India. The GoI has declared 100 gender critical districts with abysmally low CSR.
It is well established that education builds society and brings about change in our thinking. For once, this premise may be questioned as education has brought with it a better standard of living, access to money and the devil of superior medical technology, making it easier to kill "it." Yes, "it" in the womb rather than be a murderer and kill "it" afterwards, because "it" is the word for her -the girl child. The Urban society is more gender biased with a gender ratio of 929 as compared to 949 in Rural India.
'What's in Name,' a murder by any other name would be a MURDER– whether it is foeticide, infanticide, negligent homicide or homicidal violence. They both kill- the Urban and Rural India, it's just than there methods might differ.
A Female child is more often than not killed in the womb. The urban society has access to modern technologies and doctors so they use sophisticated methods. While most rural villages don't have a doctor, USGs are pretty difficult to get done, the mother-to-be travels to the nearest city to get it done. Where money is a problem to determine the sex of the child, the mothers-to-be are taken to astrologers / or older women of the village to determine the foetuses gender.
If due to some unfortunate circumstance the girl child is born, she is killed.  People have traditional ways of offering prayers, marriage, celebrations, we have traditional ways to kill. Feeding the new born milk mixed with poison, drowning in milk/water, suffocating it with pillow, burying the baby alive in earthen pots, feeding salt/paddy husk, starving her to death are commonly used methods. The urban society is developing new ways to kill by drowning the child in ice cold water till she catches pneumonia or giving her alcohol to catalyse diarrhoea, are catching up. As one gets a medical certificate with a genuine cause of death, these new methods are considered a safer bet.
What we forget, 'every action has an equal and opposite reaction'. Decades of crime against female child means society will pay. Men in villages of Haryana don't have women they can marry, eligible Jat bachelors have to travel hundreds of kilometres in search of a suitable bride. Crime like girl trafficking / kidnapping, rape / molestation, polygamy and suicide are going up.
At Quantta women are not only given an opportunity to work but we are heard, applauded and we are looked up to. Quantta believes in women empowerment and is proud to be associated with clients whose target audience are women, companies which believe women are not burdens but rather they share half your burden if not more.